First, watch the Important Announcement, Oakdale Together ALL IN, from Pastor Kevin from Sunday, August 20.

Weekly Updates (1, 2, 3, 4 & 5)

A Message from Oakdale HS Girls

Exciting News from Sunday, September 24
What an amazing 5 weeks it has been seeing what God can accomplish through our obedience and sacrifice! As of today, 9/25, at noon, God has raised about $1.55 million in cash with almost $1 million committed for the next 3 years! About 200 Oakdale families are represented in these numbers along with partners from around the nation. What an awesome God we serve!
We also have wonderful news that we were able to secure a loan from Sandy Spring Bank for the remaining amount of money! God is faithful and has provided a way for us to remain in our property. Hallelujah!
The bank is willing to work with us to reduce the loan amount as more money is raised. Every dollar donated helps reduce the loan and interest we would have to pay back. If you have not done so already, we invite you to spend time praying and listening to God's call for your family. Then respond, as you are able, in obedience. He will honor each sacrifice. Please see number 4 below for more information on how to give.
Keep praying and come ready to share disciple-making stories from fasting this past weekend next Sunday morning. Thank you for your obedience and sacrifice. May God get the glory!
---
Oakdale Church's total indebtedness is currently $2 million, in the form of a loan with Sandy Spring Bank. That $2 million is what is outstanding from the $4.5 million building project from 2014. To disaffiliate from the UMC, we need to pay the UMC $4 million.


Join us in prayer for a God size miracle and ask God how your family can go ALL IN. Then click the button below to fill out the online pledge card. You can also get a paper pledge card at the church.





Make your contribution toward the ALL IN Campaign. We will update weekly in church (and above) as we receive pledges and funds and celebrate together what God is doing in our midst!
*If we are unable to reach this goal, you will be refunded. None of your hard earned money will be sent to the United Methodist Church without us keeping our building*
Give at Church
Giving by check or cash is NOT subject to any fees and Oakdale will receive the full amount of your gift. You can Mail a check to the church: 3425 Emory Church Rd Olney, MD 20832, or give during worship. There will be a portion of the service dedicated toward this the next few weeks. Cash or check can also be dropped off to the church office during the week from 9AM to 2PM Monday to Friday.

Give by Venmo
If you're a Venmo member, find us at Oakdale-Church. If you need to verify our account, the last 4 digits of the number are: 7911. Giving by Venmo is not subject to any fees.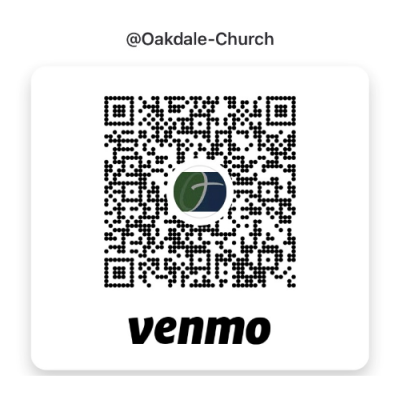 Give Securely Online
Your information is held securely by an SSL encrypted connection. This information will remain private and will never be given away to third parties, other than to process your scheduled contributions.
Online Giving is convenient and easy. Oakdale does NOT receive the full amount of your gift as we pay fees for every transaction. There is an option to increase your gift to cover the fee, if you desire.
ACH/e-Check Fee: 0.25% + $0.30

Credit Card Fee: 1.99% + $0.30.

Automate Your Giving
Setup bill pay through your online banking to mail a check to Oakdale monthly. Use our giving portal to automatically withdraw your tithe every month from your checking account.

Give Stocks or Other Ways
If you would like to give to the Oakdale Together All In Campaign (or your regular tithes and offerings) in a non-traditional way like stocks, bonds, directly from your retirement funds or any other ways, and need some help or advice, please reach out to Michelle Baker,