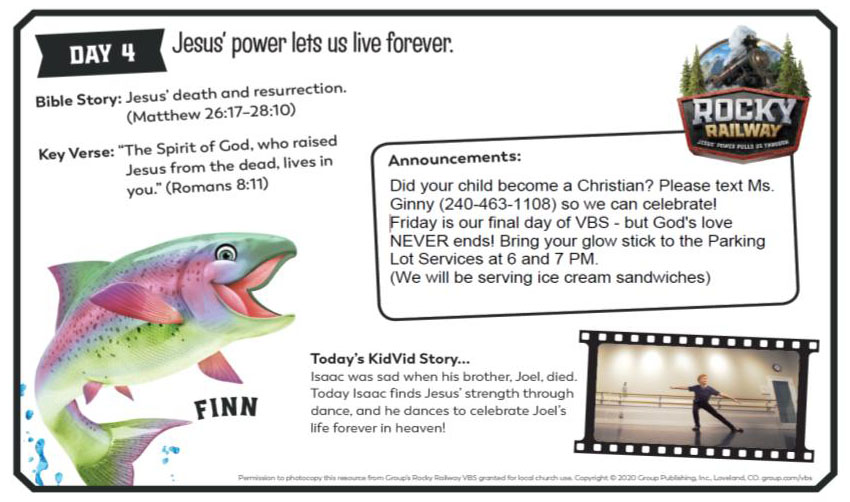 It has been SUCH a privilege and pleasure getting to meet some of you - albeit via masks - during VBS week! If i have not made contact with you, I really hope to do so before VBS ends!
On Thursday, we will learn that Jesus' Power Lets Us Live Forever. This is probably the most important night of VBS because we will be learning about the Gospel - the good news that Jesus came to save us from death, sin and eternal punishment. We will not be getting into all those details with the kids, but we WILL invite children to follow Jesus as Christians. Please pray - along with the VBS team - for the Holy Spirit to open kids' hearts to the love of God during our parking lot services!
Here's the link for Day 4's video:
https://vimeo.com/446847385/
Remember to bring your water squirters (& towels!) to the parking lot services TONIGHT:
Group A: 5 pm (please remember to pick up your Chikfila order at 5:30 PM, AFTER the service)
Group B: 6 pm (pick up your Chikfila order at 5:45 PM, BEFORE the service)
Also, remember to watch the "What's in Your Kit" video by Ms. Jessica which will cover the craft and snack of the day! oakdale.church/vbs
Go to KIDS KORNER and scroll down to see the helpful video.