Oakdale's Attic is a new thrift store that will be located downstairs in the historic chapel building at the corner of Emory Church Road and Georgia Avenue on the Oakdale Church campus. We sell gently used kitchen and household objects such as dishes, cups, cutlery, desk accessories, scarves, jewelry, purses, linens, curtains, decorative pillows and home goods, toys, and collectables. Proceeds from sales support local, national and international mission work (visit oakdale.church/missions for information about organizations and missionaries we support).
Current Hours: Friday 1:00PM to 4:00PM and Saturdays 10:00AM to 2:00PM


Address and Parking Information: 3515 Emory Church Road Olney, MD 20832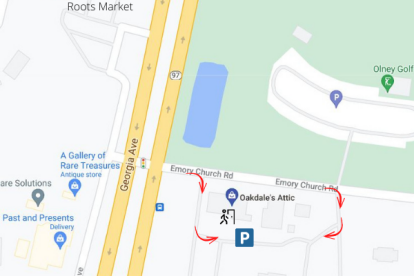 Mission Statement: Exemplify the light of Christ in an environment where we meet people, offer sales, prayer, and spiritual conversations.
Donations: Currently we are only accepting donations of household items and décor by appointment only, please contact Mary Johnson, , for more information. We are not accepting clothing, shoes or books at this time due to space constraints.
Volunteer: We are seeking volunteers to help run the store and handle sales. Please contact Missions Pastor, Mary Johnson, at to express your interest or with questions.
Follow us on Facebook: facebook.com/OakdalesAttic