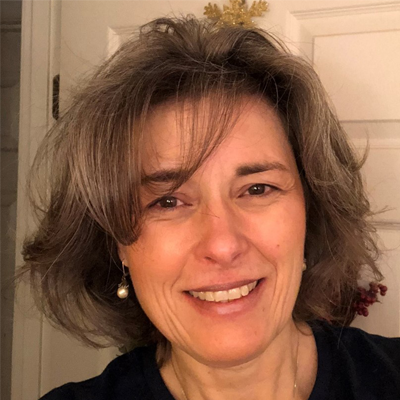 Leanne McNamee
Board Vice-Chair
Hometown: I have lived in the Washington, DC area since 1974. My father worked for NASA, so I grew up near Cape Kennedy. We transferred up to DC NASA Headquarters during Watergate and in time for the Bicentennial. What a time!

My Faith Story: I was born a Methodist and cannot remember a time that church was not in the picture. However, how much it was in the picture changed through the years. Some years we were only there for Easter and Christmas. Other times, my mom would get us involved in VBS, youth group, ushering, etc. My mind has happy memories of hardworking ladies in Circle groups and delicious potlucks. I am sorry to say that church was not a part of my college years (I could have used a loving Christ-filled community). And I bumped along painfully through early adulthood. It was actually not until I was pregnant with my first child that a felt the true pull of needing, truly needing, church in my life on a consistent and regular basis. I was incredibly blessed that my husband felt the same way. We joined small groups, took disciple classes and let it sink in deep. When I had my first child, I suddenly understood the love that Christ must have for us. There was nothing my daughter could do that would keep me from loving her.
We were at a smaller church we loved but wanted more activities for the kids. We found Oakdale and admired the genuine love our congregation has for the Lord and community. It felt like real people at a real place. Hard to believe that was 2008. Time flies. We continue to take Oakdale's offerings and grow in our faith.
Ministry Area: Board Member, Rooted Co-Leader, Discovery Bible Groups, helper mom as needed through the years of many activities from Santa's Secret Shop to VBS crafts to sub sales to Sunday School teacher.

Family: I have been married to Scott for 20 years and have loved growing together. He makes me a better person. We love spending time with our three teen children – Charlotte, William, and Marshall. We are so grateful to the Oakdale staff and volunteers who have poured into our children.
Passion
I love sharing Jesus through my work with Classical Conversations, a classical Christian homeschool support group. We have curricula and a community day, and I work with families throughout Montgomery County. I also direct the freshman high school class at one community. I adore talking with these students about how God reveals himself through all subjects, and to learn alongside them and integrate the subjects.
Favorite Pastime Activities: First favorite is reading (with classics at the top of my list). I also love travel. You can find us anywhere from Europe to camping to Walt Disney World.
Little-Known Fact:
I used to run road races and participated in the Marine Corps and Chicago Marathons. But Iife has changed for me and my body, and I am all about walking to keep in shape these days!