Oakdale Church is a vibrant community of Disciple-Makers who have been growing God's kingdom in the Baltimore Washington Metropolitan area since 1801. We are a church with strong Wesleyan foundations, navigating denominational alignment while remaining true to our God given vision, mission, values and wildly important goal (WIG). It takes each of us using our gifts, talents and time together in obedience, along with the guidance and power of the Holy Spirit, to accomplish what God has set before us.
Vision:

Jesus in the heart of every neighbor
Mission: Take the Gospel into all of life
Values: to be real, relational and fun
Wildly Important Goal: Grow God's Kingdom in 70 Countries, 700 Communities, 7,000 homes, and 70,000 hearts in 7 years (December 31, 2030).
As updates happen they will be shared with the congregation and posted here.
08/20/2023 Update


---
07/23/2023 Update
We released a survey asking for your feedback on discerning Oakdale's future as it relates to our property and the disaffiliation process.
Option 1 was to pay the $4M being imposed by the Baltimore-Washington Conference (BWC) to keep our property as part of disaffiliation.

Option 2 was to surrender the property to the BWC and start our new church elsewhere.
First - THANK YOU for taking the time to provide feedback. We received nearly 200 responses, and had prayed for a strong message - God provided just that:

Over 90% of responses indicated Option 1. In that light, the Unified Governance Board will work to secure the loan and finalize our disaffiliation process with BWC.

Now what? The Oakdale Staff and Unified Governance Board will secure the loan and complete the administrative and financial requirements for disaffiliation with the BWC by the extended Nov 15 deadline the BWC approved. We will inform the Congregation if there are any significant changes.
Most of all, we are excited to kick off 2024 with our full focus towards the WIG and the distractions of the past in the rear view mirror. To support this effort, the Board will initiate a comprehensive review of our finances, infrastructure, and stewardship in late 2023 and early 2024 to optimize our efforts towards our WIG. Additionally, as promised, the Board will assess whether Oakdale's mission is best met as an independent interdenominational church, or whether affiliation with another denomination should be considered, and will make a recommendation to the congregation.
---
Our Board has Released a Posture Statement (05/05/2023) Concerning Disaffiliation & Ongoing Negotiations: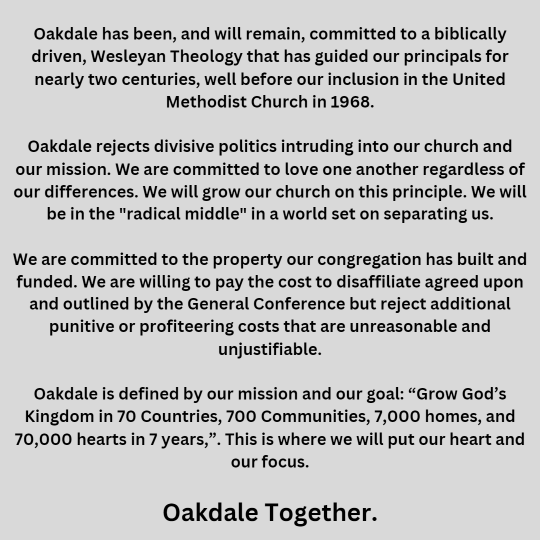 As we continue from our Oakdale Forward discernment process into our future as Oakdale Together, you are invited to continue praying for our church, for the board and staff, and for God to part the red sea in front of us. May He get the glory!