Stellar VBS:
Shine Jesus Light!
Launch into an out-of-this-world Adventure
REGISTRATION CLOSED


Join us July 10th to 14th
9AM to 12PM Each Day at Oakdale Church

Sing & Play Blast Off at 9AM in the Sanctuary (drop off starts at 8:45AM)

Kids rotate through various stations throughout the day including:

Stellar Bible Adventures, Kid Vid Cinema and Imagination Station & Galactic Snacks

Cosmic Closing Celebration is at 11:45 Each Day (parents invited to attend)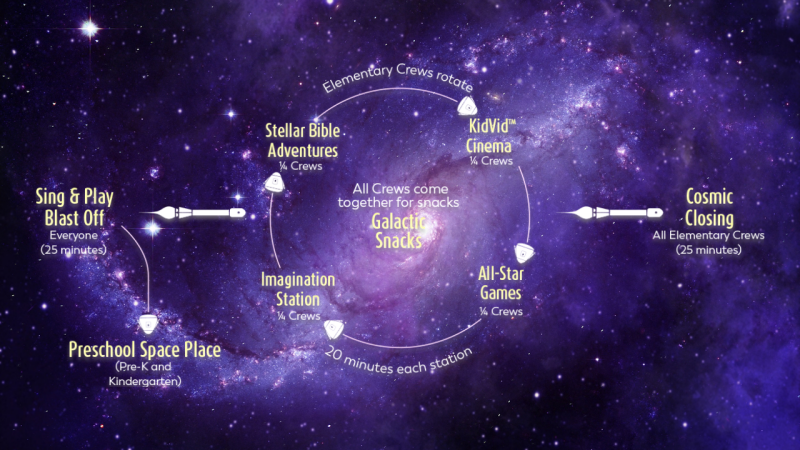 Ages 4 through 11

We will have a preschool class for children who are 4 years old by June 1
Children who have completed 5

th

grade (i.e., entering middle school) are welcome to join us



Fee: $35 per child // $30 for children of volunteers - Maximum of $100 per family


NEW VBS Parent Track - Tues to Fri - 10:30 to 11:45AM

for the first time all VBS parents will have the opportunity to discuss the most pressing parenting issues of the day with Pastor Kevin and myself as we better equip our kids to stand amidst the cultural battlegrounds they face at school and in media. Drop your kids off, run any errands and come back at 10:30AM to join the parent track! We will end in time to join the closing celebration and pickup your kids in the sanctuary.
Mission Fundraiser 2023
GOAL: $3,000 to donate Kulumi Sheep audio players with the bible in Portuguese for the children that were rescued in Brazil from sex trafficking, abuse and gangs by Life Impact International. Kids and parents can donate by dropping cash or checks in the various wells around campus at Oakdale. Oakdale will be sending a mission trip down to Brazil this August and they will take the sheep with them!

If you have questions, feel free to contact us.