New Here
Welcome to Oakdale

We are a vibrant community of Disciple-Makers who have been growing God's kingdom in the Baltimore Washington Metropolitan area since 1801. We desire to create disciple-making communities. We do this by teaching people to love, serve, and share Jesus with others through disciple-making. Wherever you are in the process, we're here to help you grow and share the love of Christ with others. Let us help you take the next steps in the journey to know Christ.
Please text NEW to 78716 to learn more about Oakdale and get connected.


Vision: Jesus in the heart of every neighbor
Mission: Take the Gospel into all of life
Values: to be real, relational and fun
Wildly Important Goal: Grow God's Kingdom in 70 Countries, 700 Communities, 7,000 homes, and 70,000 hearts in 7 years (December 31, 2030).
Current Sermon Series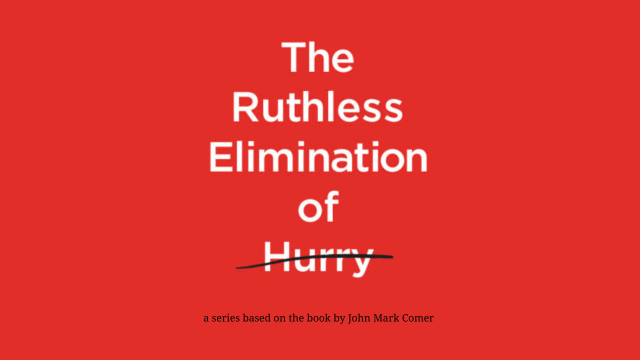 Do you feel like you are often rushing through an endless list of tasks? Always feeling "behind schedule" and never have time to rest? Does life get in the way of your ability to spend the time you want with God and others? You are not alone! Our modern life is plagued by hurry. Join us for the series The Ruthless Elimination of Hurry based upon the book by John Mark Comer where we will discuss practical ways we can all get rid of hurry and focus on what really matters.
Be sure and be there in-person or online (live.oakdale.church) at either 9 or 11AM.

Meet the Team
Click Here for information about our Staff and Board
Plan your Visit
At Oakdale, you'll find a place to connect with people driven to go and make disciples. Every Sunday, join us in-person at 9AM & 11AM for worship. We also broadcast our service online at 9:00 and 11:00 a.m. at live.oakdale.church. There is live hosted chat and prayer available during the 9AM service.
We invite you to visit the Oakdale 5 table with balloons in the lobby, at the back of the sanctuary, for a 5 minute introduction to Oakdale and invitation to take your next step(s) here.


Oakdale Kids
Parents, as you come into church at 9AM, please check-in your children at the Kids Ministry table in the lobby. Pick up YOUR (parent) name tag and CHILD's name tag. You will need this to pick up your child at the end of service for security. The Oakdale Kids team will help you get your kids to the correct place.
Parents, please pick your kids up at their individual classrooms (see below) after the service.
Nursery: After check-in take your babies and 1 year olds to the Nursery (Room 111)
Pre-School: Check in and then go down to the Pre-School Hall past the nursery and around the corner to drop off your toddlers and 4 year olds.

2s/3s: Room 103
3.5 and 4s: Room 108

Elementary: Continue to worship with you in the Sanctuary. Then, they will head upstairs to the Oasis for a large group kids message. After they will disperse into smaller groups:

Kindergarten: Room 303
1st-3rd: Oasis
4th/5th: Room 308
Coming to the 11AM service? We are glad to now offer childcare during the service. Please come to the Welcome Desk in the lobby to get info and drop off your kids. Any questions? Email (Ginny, Kids' Pastor)
Students
Middle and High School Students are invited to worship with their families on Sunday mornings. Students meet in small groups on Sunday afternoons and monthly in large groups. More information is at oakdale.church/students. please contact Andrew Hall for details: .
Where to Park
Please park in the front parking lot along Georgia Avenue and enter the building through the doors on the front of the church. Ushers will greet you and your family when you arrive at the Georgia Avenue Doors.
What to Wear
You will see everything, from suits and dresses to T-shirts and jeans (even shorts in the summer). Your presence in worship is what honors God. We ask that everyone in your party wears a mask the entire time they are on our campus

Subscribe to the Oakdale WEEKLY News
The WEEKLY newsletter is distributed Thursday afternoon highlighting upcoming events, sermon and disciple-making resources plus quick links to registrations, live streams, and giving. It's an easy way to stay connected to Oakdale Church. Click here to Subscribe
Want to Learn More & Get Connected?
Our Prospective New Members' Discovery Group is the place for YOU! Join us for 6 weeks on Sunday mornings at 10:30 a.m. in Room 411 (upper level, top of the stairs) to learn more about Oakdale and the Disciple-Making Community that we aspire to be. This group is led by Anne Jordan; reach out to with questions or to sign up: .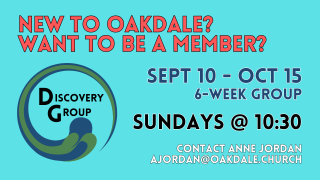 Contact Our Staff:
We are glad to welcome you and help you get connected into the Oakdale Church family. Please reach out to our church staff with the contact form below with any questions, concerns and or desire to be more a part of Oakdale. We are happy to help!