2022 In Review
Welcome to the 2022 Annual Report of Oakdale Church. Thank you for spending some time with us as we look back at all God accomplished in and through Oakdale last year. You will want to take some time to watch the staff video reports below. Each staff member will highlight some awesome things that happened last year and share with you briefly about what is to come in 2023.

We seemed to finally reach the other side of the pandemic and have been able to gather together all year long. Last spring, we had our Welcome Home Celebration which was a wonderful outdoor service and time to spend eating a picnic lunch together as the Oakdale Family. The Church is meant to be together and it has been a huge blessing to gather with each of you this past year.

2022 was a year that we will always remember as God surpassed our Wildly Important Goal (WIG) of sending out 1,200 disciple-makers by the December 31, 2022. He went above and beyond that goal with a final number of 1,597. This is way more than we ever dreamed or imagined and only happened because our God is faithful and can do big things. A highlight of the year was our WIG Celebration Sunday in November where we shared breakfast and heard story after story of what God accomplished in and through our obedience.
Last year also formally began our Oakdale Forward discernment process, in March, as we prayerfully spent the year listening for God's will for the future of our church. Our Unified Governance Board led us with several meetings, town halls, webinars, emails and self-learning on our website. This has been a long and tough process but our church has learned that even in these times our God is faithful and will bring us through together in unity according to His purposes.
---
In this 2022 Annual Report we look at how we have grown, continued forward, and prepared for what is yet to come. To God be the Glory!
---
Leslie Myers
Executive Pastor



Tim Parker
Associate Pastor





Anne Jordan
Executive Project Manager





Andrew Hall
Student Pastor





Mary Kay Isaacs
Care Pastor






Michelle Baker
Business Administrator & Life Events Pastor





Mary Johnson
Missions Pastor






Ricky Atkins
Director of Communications


>


Robin Axtell
Brookdale Campus Pastor





Austin Hall
Technical Director



---
2022 In Review - Finances
Our fiscal year 2022 finished with $51,325 in the black. Our income was lower than expenses by $201,385, yet God provided an employee retention credit of $252,710 to keep us ahead. Despite the challenges, the Lord has allowed us to serve one another, grow in discipleship, and see many people added to Kingdom. Your generosity and faithfulness in giving has contributed to that! The balance on our loan as of 12/31/21 is $1,974,428.
As we budgeted for 2023, the Board is committed to being good stewards and prayerfully asking God to guide the wind into our sails of disciple-making to grow His Kingdom. The budget is a plan, and He provides through you. We need all of you to be "ALL IN" to continue Gods work. Our 2023 Budget is $1,921,699 which is 8.79% lower than 2022 budget.
2023 Budget Compared to 2022: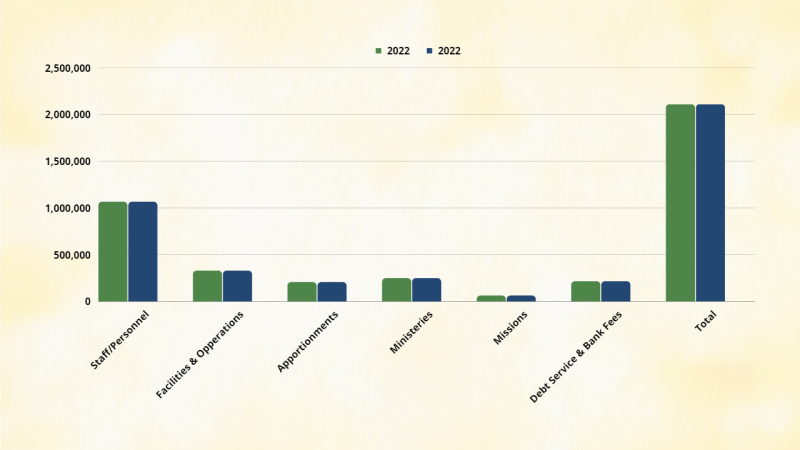 2022 Missions Breakout: $46,416 extra from Apportionment Money
$27,229 International Missions
$12,000 National Missions
$6,742 Local Missions



---
2022 In Review - Disciple-Making
This past year was the year we all got to see God move in a big way as He accomplished, and exceeded, our Wildly Important Goal (WIG) of sending 1,200 disciple-makers by the end of 2022. A graphic representation of the almost 1,600 disciple-makers is shown below. What a joy it was to celebrate God's provision during our WIG Celebration in November. The Oakdale Family has continued to be everyday disciple-makers and shared how they have been obedient to God's call during our disciple-making stories in worship. Hearing how others are acting out in faith has catalyzed the rest of us to take our own next steps in faith.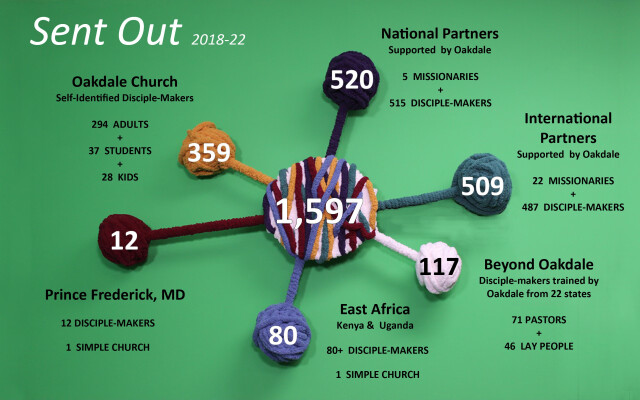 ---
2022 In Review - Service to Oakdale Family, Community & World
A few highlights of our service this past year are shown below: